SmartMusic is an excellent resource for music students. Check it out!

What is SmartMusic & How Can I Get It?

The RHS Band Directors HIGHLY RECOMMEND THIS as a fun way to make music at home and PRACTICE FOR FUN!!! This is also an EXCELLENT practice tool for wind players to learn their RHS Marching Band music - the RHS Marching Band show music is entirely interactive with SmartMusic!
Nearly all music performed by all RHS Concert Bands and Jazz Bands can be found on SmartMusic!
SmartMusic interactive, computer-based practice system helps students get better faster, and makes practicing more fun. With amazing accompaniments for more than 30,000 titles, challenging exercises, RHS MARCHING BAND SHOW MUSIC, JAZZ IMPROVISATION, SOLO ACCOMPANIMENTS, a built-in TUNER & METRONOME and the ability to record personal CDs, SmartMusic is the future of music learning at home. With SmartMusic loaded on a computer, students plug in a instrumental microphone and begin practicing. They play their part with accompaniment and receive, in real time on the computer, detailed feedback on their performance. Ideal for woodwind, brass, string, and vocal musicians of all levels.
The stimulating practice system that guides, motivates, and inspires students to discover their musical abilities and improve rapidly with SmartMusic. They practice longer and more often because SmartMusic is fun and delivers real results.
Gain the confidence to perform and solo
SmartMusic students like how they sound and look forward to demonstrating their talent and skill in concert and at contest. With SmartMusic at home, students can practice solo parts with accompaniment every day and in private. As they improve, they hear it in their SmartMusic recordings. Soon they're confident in how they sound and excited to perform a solo or go to contest.
INSTRUCTIONS FOR PURCHASING YOUR SMARTMUSIC SUBSCRIPTION
Order online directly from the SmartMusic website: http://www.smartmusic.com/order/
* Your SmartMusic subscription will run for one year from the date of purchase.
* The SmartMusic CD and any accessories you purchase will be mailed directly to your home.
* You can also choose to purchase a microphone and other accessories. A microphone is required for recording, Intelligent Accompaniment, tuning and assessment. While most microphones (including built-in mics) will work with SmartMusic, we recommend the SmartMusic microphone because it has undergone extensive testing to ensure the best results with the program. It also has a clip (instrumental) or headset (vocal) to place the mic in the optimal position.
* Open SmartMusic and activate your subscription by following the on-screen instructions. You will need to enter your email address and password that you created when you ordered your subscription. Activation takes a few minutes and does require an Internet connection. (No ongoing Internet connection is needed to use SmartMusic after activation.)
* Start practicing! You can learn how to set-up and use SmartMusic by watching the SmartMusic QuickStart Videos. These videos can be accessed from the Help menu, the last screen of the Setup Wizard or the Welcome screen before you activate your subscription.
If you have any questions about how to use SmartMusic or encounter any problems, please don't hesitate to call our toll-free Technical Support line at 866-240-4041. Our phones are open weekdays from 8.30am-8pm (CST). You can also submit your question online athttp://support.makemusic.com.
More about SmartMusic (www.smartmusic.com):
This award-winning, computer-based interactive practice system gives students the tools and accompaniments they need to get better on their own:
* Over 30,000 titles that make practicing at home fun!
* Built-in Tuner and Metronome keep students in tune with a steady beat
* Recording encourages students to analyze their performances.
* Exercises that develop individual skills display right on the screen with a choice of accompaniments.
* Beginning band and string students are guided with colorful Assessment graphics (String assessment currently available for violin and viola only).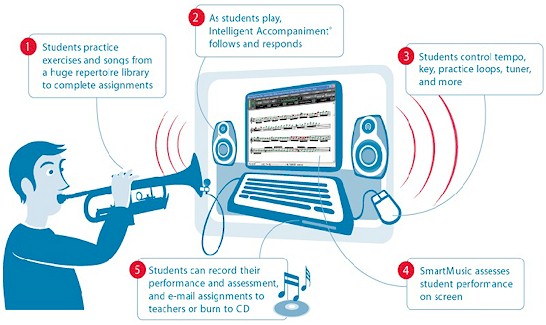 System Requirements:
Windows
Pentium III-class 800MHz processor or higher, 256MB RAM, Windows 2000/XP. CD-ROM drive. 700MB free disk space. Microphone. Direct X 9 compatible sound card with full duplex support. One available USB or serial port for the foot pedal (optional). Monitor resolution 1024x768 (800x600 minimum).
Macintosh
867MHz G4 processor or higher, Mac OS 10.3.9 or higher. 512MB RAM (256MB RAM minimum). CD-ROM drive. 700MB free disk space. Microphone and microphone adaptor. Speakers or headphones. Additional USB port for the foot pedal (optional). Monitor resolution 1024x768 (800x600 minimum).
Please contact SmartMusic if you have any questions or comments.
SmartMusic Customer Service 888-874-2144