Show your support for Rosemount Bands with decals and yard signs!
Rosemount High School Band
Window/Car Decals
and Lawn Signs
Support the Rosemount HS Band
with your purchase of these
"school-spirit" promotional items
& show your Irish Pride!
Decals & Signs are available
in the Band Office to Purchase
---
Window Decal - $1 each
•Clear plastic attractive looking window decal
•Size of decal: 3 X 4 inches
•Friction decal - no messy/sticky adhesives, etc.
•Available now in the RHS Band Office!
•Make checks payable to: RHS Band
---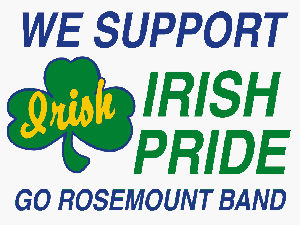 Yard Sign - $10 (includes sign & metal frame)
•Size of sign: 24 X 36 inches
•Image is printed (in color!) on both sides of sign
•Made of heavy-duty corrugated plastic
•Includes a metal frame for posting in your yard!
•Available now in the RHS Band Office!
•Make checks payable to: RHS Band